European Forestry
The Master of Science in European Forestry is a joint Erasmus Mundus programme run by six renowned European universities.It provides an additional dimension to the already existing educational markets in forestry and nature management in Europe. The basic idea of the programme is to connect people, students and teachers who want to develop European dimensions in forestry and in higher education. The programme coordinates the new challenges and demands for forest policy and management in Europe.
MSc in European Forestry provides the student with
intensive co-operation with forest industry, research and policy makers
background to identify and solve problems related to forestry on a European level
lecturers and experts from different European countries
partnership with future forest professionals in Europe
link to the global forestry society

The MSc EF is a two year programme (120 ECTS), including the following elements: Introductory Course, Applied Period, Problem Oriented Course, Elective Courses and a Thesis. All information on the official website of the programme.

During their first Master year students attend the European Forestry Field Course. This course takes them on a journey across Europe (Romania, Austria, France, Germany and Spain). In their second year students can do the elective courses and the master thesis at one of the six partner faculties.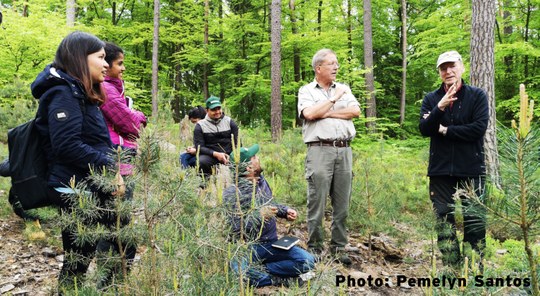 "A global team of students learn about German forestry. Students get hands-on experience about the German forestry and management practices that are world renowned.
We have a lot of theoretical knowledge, and today, we got a chance to learn how to apply the knowledge practically in the field. Standing inside the forest area, looking at the trees, we proposed long term management plans ourselves. We developed our skills on how to think in a sustainable way and plan accordingly."
[Statement by Aditya Acharya (student of the "Master of European Forestry"-Program) about the German part of the field course, one week in May 2019]
In recognition of the quality of the course the MScEF was awarded the title "European Master Course", thereby including it within the prestigious Erasmus Mundus programme of the European Union (2002-2014 and 2016-2021).
Admission, Application & Contact
Admission of the student is based on their academic standing, and their knowledge of English. Requirements for applying for the MSc EF are available on the website http://www.europeanforestry.eu/; they include a Bachelor degree or equivalent in forestry or other related disciplines and a fluent level of English (TOEFL).
Application for the academic year 2020-2022: Call for students open from December 2 / 2019 to January 22 / 2020, please check here: https://www.uef.fi/en/web/mdp-europeanforestry
Contact:
Coordinator:
Dr. Marjoriitta Möttönen
Email : Marjoriitta Möttönen@uef.fi
Fon +358 50 442 3031

Mailing Adress:
MSc European Forestry Secretariat
University of Eastern Finland
School of Forest Sciences
P.O. Box 111, 80101 Joensuu
FINLAND
Email : secretariat@europeanforestry.eu
---
Program Coordinator at the University of Freiburg, former Chair of Forest Growth and Dendroecology:
Prof. Dr. Dr. h.c. Heinrich Spiecker
---
Marianne Stadler
Administration international study programs
Faculty of Environment and Natural Resources
Albert-Ludwigs-University Freiburg
Tennenbacher Str. 4, 79106 Freiburg, Germany
Fon +49 761 203 8562
Email : Ms. M. Stadler
Applied Period Presentations by MScEF students
Ignatius Kristia Adikurnia, Indonesia: Optimization of Thin Section Preparation (Academic Year 2018-2020)
Anamika Menon, India:Agroforestry in Southern Africa- a review (Academic Year 2018-2020)
Pemelyn Boado Santos, Philippines: Wood Formation and Tree Growth Phenology along altitudinal Gradient in the Black Forest (Academic Year 2018-2020)
Partners
The programme is offered jointly by the following Consortium partner universities:

Associated partnership universities:

Associated industrial and scientific partners: