Geography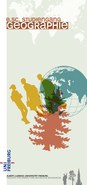 The Geography major is a six semester-long program in which aspects of environmental science, economics and sociology are all integrated. The contents of this major are split into two main subfields: physical and human geography. An internship and the Bachelor's thesis create an opportunity for students to specialize in a specific field. Through cooperation with forest and environmental science programs, minors from these programs supplement the geography major. The geography program also includes the requirement of 'Career Oriented Courses', providing students with skills in areas like management and foreign languages. More information about the study programme on the website of Geography.

→ Download Flyer
→ Videos
Online Self Assessment
An online self assessment is available for those interested in the geography program. It is meant to give students a realistic picture of the contents, workload, and requirements of the program as well as to test students' own competences. Through individual feedback, potential students can find out if this program is the right choice for them.